Other Local History Links
The Community of Liberal, Oregon
Wilhoit Mineral Springs History Page
Willamette Valley Southern Railway
---
Oregon's Highway 213 is a 55.66 mile long, state route (also known as Oregon Route 213) that serves the eastern Willamette Valley between the Portland metropolitan area and the state's capital, Salem.
It is a north–south route. The route (except for its southernmost segment) is known as the Cascade Highway, though specific segments are generally better known by more localized names.
Beginning at the Portland International Airport Highway 213 heads south on 82nd Avenue through east Portland. When it reaches Highway 224 in the Clackamas area, Highway 213 runs parallel to Interstate 205.
Highway 213 then follows I-205 for approximately three miles before diverging from the freeway in Oregon City. It then proceeds south on a four lane expressway known either as the Oregon City Bypass or the Trails End Highway. It continues along the eastern edge of Oregon City until it intersects with Molalla Avenue at the Clackamas Community College.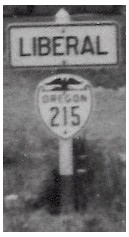 It then continues south as a two-lane, undivided roadway, through the communities of Carus, Mulino, and Liberal. In Liberal, Highway 213 becomes the "Cascade Highway" and in past decades, it began as a county market road and then Oregon Route 215 prior to being realigned as 213.
Approximately twelve miles south of Molalla, the highway enters the town of Silverton, where it intersects Oregon Route 214. It then continues southwest along Silverton Road until it reaches Salem. In Salem it follows Silverton Road, Lancaster Drive, and Market Street terminating at Interstate 5.
A separate roadway, also known as the Cascade Highway South but not maintained by the Oregon Department of Transportation, continues south from Silverton until it intersection with Oregon Route 22 just north of the town of Stayton. In the past, this was part of the original Oregon Route 215 but is now devoid of any route numbering.