Other Local History Links
The Community of Liberal, Oregon
Willamette Valley Southern Railway
Victor Hugo Dunton House (1916)
and the
Dunton Family Farm
---
---




John Wilhoit took up a land claim in about 1866. There were attractive mineral springs in the vicinity and Mr. Wilhoit operated a health and pleasure resort.[2,4]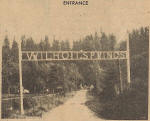 By this 1882, Wilhoit Springs featured a road, post office, and hotel. The two springs (one sulfur, one soda) on John Wilhoit's old Donation Land Claim had been developed into one of Oregon's finest and most popular resort destinations by Frank W. McLeran. Along with the post office and hotel, it had its own cabins, bath houses, swimming pools and was serviced by daily stage service. At one point, a railway service was planned but never materialized.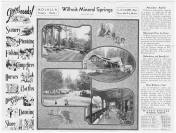 According to an old brochure, local and international reputation of the springs dated back to the early 1870s. "The Springs have been known ever since the advent of the first white hunters, but the history of their rise to prominence among the other mineral springs of the world began in the decade preceding their formal recognition in a prominent illustrated German paper, 'Deutsche Hausohatz,' between the summers of 1884 and 1885." In 1899, the analysis of the water was written up in a book entitled, "The Mineral Waters of the United States and Their Therapeutic Uses".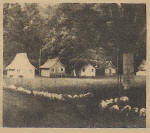 For whatever reason, perhaps it was the sobering of the nation due to the World War or the failing economy, the resort entered into decline. Ownership changed hands but it never again equaled the successes while at its peak in the "Gay '90s." The post office was officially closed on September 29, 1928.6
The history of Wilhoit Mineral Springs is intertwined in our family's history. It was a place where generations spent free time relaxing, playing, picnicking, fellowshipping, and of course, enjoying the mineral waters.
In 1955, the property was even purchased and operated by our relatives, Al and Mabel Schoenborn. Uncle Al later sold the property to a developer. He was told that the intent was to restore the site to its heyday as a premier resort. Al ensured that our family was granted access rights to the waters in perpetuity. The developer never did anything with the land and from my understanding, the property was acquired by Clackamas County through default.
There was a period when the site was completely neglected. The buildings were all destroyed and demolished. Very little remains in the now near wild area to hint at its once prominent grandeur. The county even went as far as to pull well casings and seal the wells. After family members, and others complained, the artesian well was reopened and "non-potable water" signs installed.
In recent years, after becoming a county park, improvements to the spring head, plantings, and pathways have been completed. Family members still make regular excursions to stock up on the mineral water.
[ Click Here for More Recent Pictures ]
---
Wilhoit Springs Mineral Water Label, Portland, 1882
1888 Article
Cure Claims - Circa 1900

---

Wilhoit Scene
Circa 1900
Hotel
1907
Campers
1908

---

Wilhoit
1908
Entrance
1910
[ Click here for Brochure ]
The Second Hotel

---

Schoenborn / Doern Family Picnic - Early 1930s

From left to right: Walter Schoenborn on lap of Grandpa Henry Doern, Marjorie Schoenborn, Aunt Bertha Doern Carter, Kate Schoenborn, Uncle Clarence Carter, Virginia Schoenborn

Well House
1954
Well House Entrance
1954

---

Swings
May 16, 1954

This shows the admission fees which had to paid in order to use Wilhoit Springs park. The picture was taken on September 21, 1956. At that time the park was owned by Albert Schoenborn.

Gazebo
May 16, 1954

---

The picture was taken in March 1960 of Wilhoit owner, Uncle Al Schoenborn.

Cabin
September 21, 1956.
Cabins
March, 1960.

---

Loren, Violet & Arlen King
(Daughter and grandson's of Wilhoit owner, Al Schoenborn)
Furniture
July 20, 1963

---

Your Photos Here!
Please share your photographic memories.
---
Sources:
John Wilhoit, born about 1815 in Kentucky, married Phebe Ingels in 1839, died November 16, 1888. [Clackamas Census, line 17-20, 888/873, taken 13th July, 1870.]
The Bulletin (newspaper), January 16, 1974
The Bulletin (newspaper), June 13, 1979
Family interviews
Oregon Geographic Names by Lewis A. McArthur
Associated Links:
---
Copyright © 1996 - 2022 - Network Services Group
Some photographs are republished, for educational purposes. Text and images carry the copyright of their respective creators. This page may be freely linked but not duplicated.